The protection works for the Îles-de-la-Paix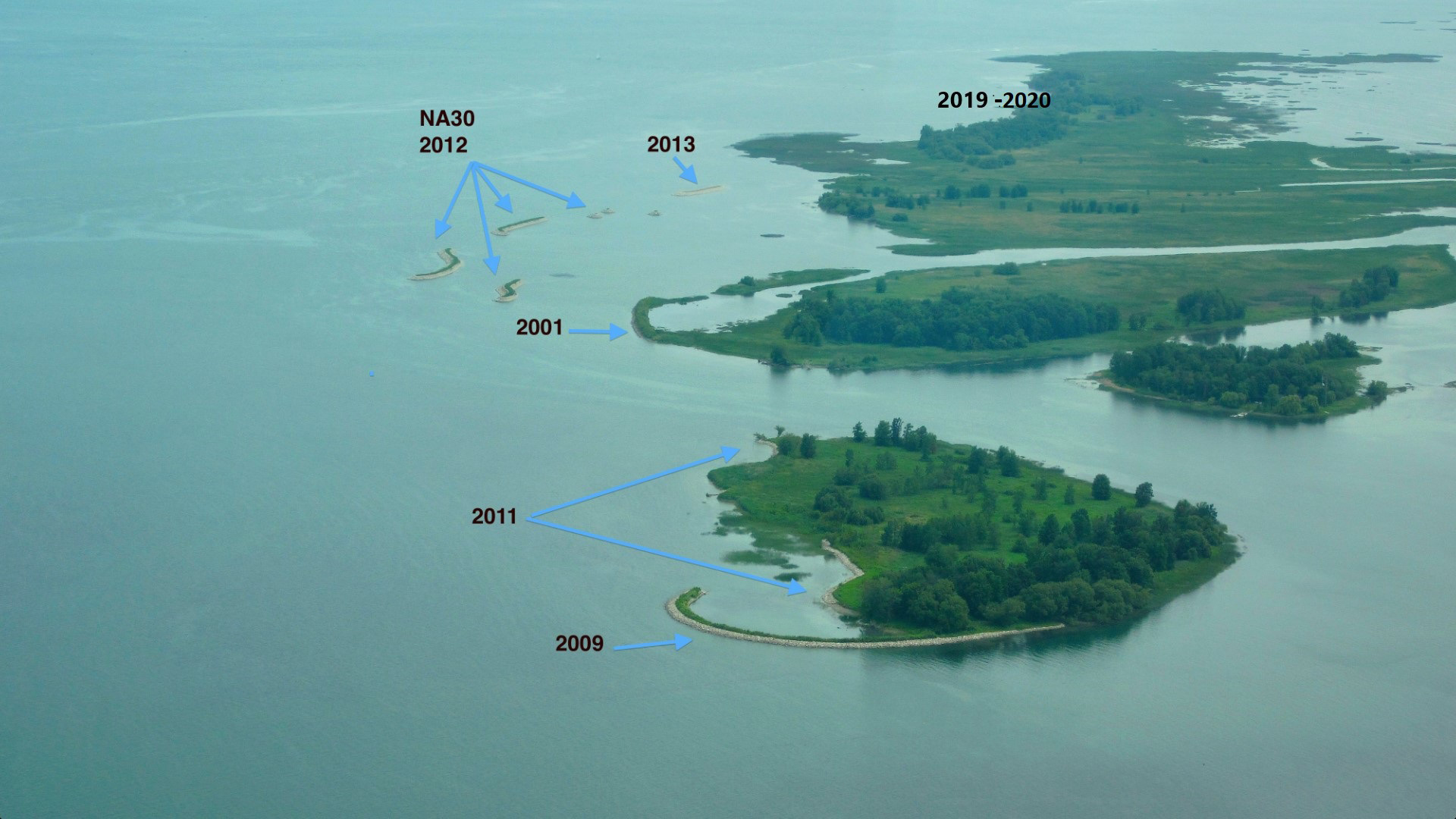 Since 1991, the Société d'aménagement du Parc des Îles-de-la-Paix has tried various ways to raise money to protect the islands; it also works with the various government departments concerned, taking an active role in consultations, awareness-raising efforts, and the coordination of work.
Since 2001, six major phases of work have been carried out, including four under the direct coordination of the Société. For the work coordinated by the Société in 2001, 2009, 2011, and 2013, the financial package largely consisted of an environmental protection subsidy and was supplemented by financial support from one or several companies that had to compensate for the loss of natural environments due to work on the river. In fact, the federal Fisheries Act prohibits the harmful alteration, disruption, or destruction (HADD) of fish habitat. This means that any work or undertaking that results in HADD is a violation of Section 35 of the Act and that compensation must be made for any subsequent losses or disruptions.
The two other major projects, which were fully funded, were managed by companies following work that caused disruptions in the St. Lawrence River. In 2012, following the construction of Autoroute 30, the NA-30 Consortium built three levees and three rocky islets opposite Chenal du Diable, in the municipality of Beauharnois.
In 2019-2020, following the construction of the Samuel-De Champlain Bridge, Infrastructure Canada (INFC) will coordinate the work, in close collaboration with Environment and Climate Change Canada, Public Services and Procurement Canada, and Fisheries and Oceans Canada.
This most recent project includes:
Two floating breakwaters, one of 250 metres and the other of 430 metres;
Two pebbly recharge areas on the beach;
Grass beds behind the breakwaters;
Shrub swamps in the beach recharge area and on the island;
Wooded swamps on the island;
Two osprey platforms;
Five wood duck nesting boxes.
With this last project, we estimate that approximately 75% of Îles-de-la-Paix will be protected from erosion. There are still important steps to be taken, which we are actively working on.
Here is a video of the projects, filmed in September 2020 by EvDrone.
The video starts in front of Île aux Faubert, in Beauharnois, where a levee was built in 2009; it then shows the various protective structures built over the years and ends with the work carried out in 2019-2020 in front of Île aux Plaines, in Léry.